Lancaster…no! Superfuncaster!
Lancaster…no! Superfuncaster!
Hey Team,
This was too awesome not to throw up a quick update. (That's throw up as in "put up quickly." I don't mean to suggest I just vomited on my keyboard and these words magically appeared.) I was wandering the streets of Lancaster, PA this morning looking for an Amish man with a cow I could milk (Which actually went better than you'd think it would.) when I saw a sign promoting all the great things Lancaster provides to the interested tourist. LOOK!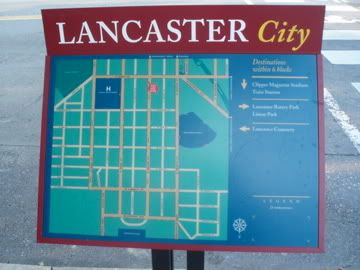 They have a field and a park AND a cemetery. If only I had time to take it all in.
In other news: I'm 1/48th of the way done with 32 after finding this geocache in Pennsylvania!
PLUS (as long as this sudden and all too biblical rain storm lets up) I'm suppose to meet the patriarch of an Amish family at their home at 5:30 because his son-in-law owns a dairy farm. Look out 9, I'm right on your tail! (So to speak.)
The bad news: Regardless of whether or not this lead pans out I have an eight mile walk back to the train station, at night…possibly in the rain, to look forward to. Once more, with feeling team…wish me luck!
Okay, I'm done.
Brett!