Been There Milked That
Been There Milked That
Hey Team,
What an incredible day! I wish you were all here with me! I guess this will just have to be the next best thing.
Okay, let's get down to brass tacks…or y'know, regular tacks will do too. Last you heard I was set to meet "Dan the Amish Man" (My name for him, not his. In fact I don't think I would call him that to his face.) but let's take a couple steps back for just a second.
I got off the train this morning after minimal sleep and walked across the street to the local bakery were I met Abby.
"Hey Abby, suppose I wanted to start walking vaguely in the direction of the nearest Amish Dairy. Which direction should I choose."
"I'm not sure but there's a market downtown and sometimes the Amish sell dairy products there."
"Good start. Thanks!"
And it was a good start…great start even. It led me straight to Nina who was selling milk. Who recommended me to Rebecca the seller of fresh veggies. Who pointed me towards Rachel the fruit-stress (Does anyone really care if I just make words up once in a while?). Who pointed me towards Dan of the Donuts and his blue ribbon "Chow Chow!" Who in turn asked me to meet him at his home at 5:30 because there was a chance his son-in-law would allow me to milk one of his dairy cows! He seemed ever so slightly reticent but he gave me the address and I pranced (in a VERY manly way) off into the RIDICULOUS heat of Lancaster to spend the rest of my day trying to figure out how I was going to get eight miles outside of town without a car.
At a little after five I got off the bus at the wrong stop (Which is good, I would hate to think my unwavering ineptitude when it comes to a sense of direction didn't translate to bus travel also.) and was forced to half jog a little over two miles. Which meant I showed up to Dan Stoltsfus' house almost half an hour late and DRENCHED in sweat. Dan, as always, was wearing traditional Amish garb: round straw hat, dark blue shirt, black pants and suspenders.
After I drank the glass of ice water (it just occurred to me, ice means refrigeration…I wish I had asked about that.) his wife Rachel brought me we walked over to his son-in-law Nathaniel's dairy cows across the street.
(Now the only, ONLY, teeny tiny downside to all this was that they were Old Order Amish. Which means no pictures of them and no video. But I was allowed a couple of pictures without them in it.)
Nathaniel was incredibly kind and had NO problem letting me milk Becky the Cow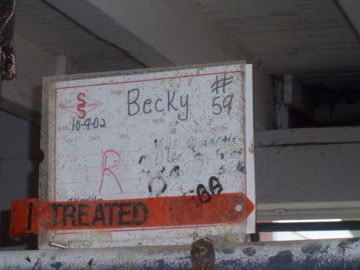 and even offered to take a picture of me milking her! (This seemed to surprise the older Dan who later told me that Nathaniel bent over backwards for me.)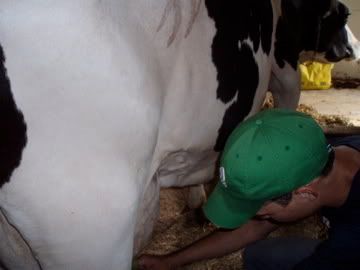 It was awesome! I actually yanked milk out of an Amish cow's (I suppose the cow itself isn't Amish but you get the point.) udder under the guidance of several knowledgeable Amish men, women, boys and girls.
AND THEN at the height of my post milking excitement Dan asked me what I'd like to do next.
I said, "Dan, you and your family have already been so generous I couldn't possibly waste any more of your time." I then proceeded to waste another four hours of their time.
First we played a few games of Quoits, which is kind of like horseshoes except the horseshoe is round and the stake is very short. How it's played doesn't really matter… what's important to note is that I got the crap kicked out of me by a 65 year old Amish dude three times in a row.
After Quoits, Dan showed me how to harness a horse and took me on a buggy ride around their property (95 acres) while he talked about the land and his family. Completely awesome! Picture that buggy you see in the movies every time the Amish are depicted. It's small, black, has a bright orange triangle on the back and is driven by and older Amish man, bearded and hunched over the reins in his round straw hat. Except this time, don't forget to also picture a skinny white kid sitting in the passenger seat with his green hat on and grinning ear to ear the entire time.
Once all the excitement was over Dan and Rachel and I just sat on a park bench in their backyard talking for a while. I rescued some baby robins whose nest had fallen thanks to the crazy rainstorm earlier in the day and Dan and I used a rag to rebuild the bottom of the nest. And then I used their old school push mower to mow their lawn as a thank you before I finally took off.
It was absolutely incredible! And to be honest the cow milking was probably the lamest part, but the experience that that one tiny little goal led to has given me high hopes for the rest of the Amtrek.
Of course I was still left with an eight mile walk back to Lancaster but being the luckiest man alive paid off there too. Sam, the township officer, saw me walking by the side of the road and out of either sheer boredom or pity picked me up and drove me all the way back to the train station! Considering the city isn't even his jurisdiction and he didn't know his way around any better than I did it was pretty awesome.
PLUS I got to ride in the back of a police car for the first time ever and it wasn't because I did something stupid (unless you count leaving your job and home and letting an inanimate list rule your life.)
That being said, ONE DOWN!
And, at least for today…I'm done.
Brett.