Boston Uncommons
Boston Uncommons
Hey Team,
I cannot overemphasize how incredible Boston has been! I've met a ton of incredible people and done some really cool stuff! Of course, that all means I've already stayed here much longer than I intended. If the rest of the Amtrek is half as amazing as the last four days have been then…holy crap, words can't express how cool it will be.
Here a quick illustrated recap of Boston: Here are the guys I'm staying with.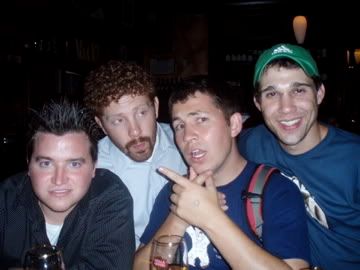 Some of the friendliest douche bags on the planet, and all of them great people to spend your free time with. I've only known them for four days but it feels like so much longer. We've wandered the pubs and taverns of Boston together in a night that just kept going (even managed to be asked to leave an IRISH tavern for singing shanties, played ultimate until all the sweat in our bodies escaped through our pores, "prison break" style, and screamed ridiculous chants gleaned from some poor kids lost baseball! GREAT times!
At the office of the good people at Google I got treated to a free lunch
and took the grand tour on an electric scooter.
Have I ever mentioned how much I love Google? I know what you're thinking, "So if you love it so much why don't you marry it?" Well, that's kind of a childish thing to say…but maybe I will. Maybe I'll move to Massachusetts JUST so I can marry a faceless corporation. And then I'll get a tattoo on my chest of a heart with a dagger in it and on the banner over the front it will just say "Google forever." (It'll go just below my "I (heart) Apple" tattoo.)
I got to play this little game called "flip cup" for the first time ever at a birthday party for a guy I had never met before.
(And yes Erin, it was a blast!) Lots of competition and screaming but in the end Team Awesome couldn't pull off the "W." I was also introduced to a little something called "The Gargoyle"
and yes it's every bit as stupid as it looks.
AND the night of Boston taverns I met an amazing girl who's dad works for the Red Sox, which means when I come back through Boston at the end of the week consider #8 crossed off! (Although she did do a background check on me before she even told me she had connections. Apparently, despite my winning smile, I don't come off as very trustworthy.) Like I said, I've met SO many generous and kind people in Boston…but eventually I have to move on. And by eventually, I mean "right now." As soon as I finish repacking it's off to Lancaster, PA to hunt down an Amish farm full of Dairy cows for #9. Wish me luck!!!
I'm done.
Brett.