Hey Team,
I'm really sorry about the long delay between the last update and this one. But for the record: Where you all see a slacker, I see a great friend.
I had to fly back to California this week to fulfill my "Best Man" duties and got caught up in the wedding week madness of one of my favorite guys on the planet. I'm still on a crazy no sleep streak and I've developed an annoying tendency to nod off every time I have to sit still for more than five minutes, but I'm fine if I keep moving. I'm like a hyperactive narcoleptic.
From here on out though it's business as usual. After today I'm free to go back to the 24/7 adventure schedule that makes life so worth living (and so exhausting). 66% of my closest friends are married now, and I don't think anyone else will need my presence for another wedding party anytime in the super-near future.
Also, things are going well with the site and I think (if all goes well) there should be a couple little surprises popping up soon in the form of videos.
I hate to leave you guys with nothing but an apology and a site update so I'll give you a quick photo tour of some of the week's highlights (of which there were many).
First off, it was GREAT seeing friends and family at the wedding again, but even though I'm nowhere near home it still made me feel like a cheater for being in such a comfortable setting in the middle of my self-imposed exile. For that reason alone I'm really looking forward to getting back out on the road again (and by road I mostly mean rails).
I spent the first couple days on wedding decoration duty, mostly etching champagne flutes for favors and trying not to lose the rings. The rehearsal was VERY long, VERY boring and that lady on the far left kept saying things like, "And then he'll maybe do this thing with a prayer…I think." Clueless. But I learned a LOT about Catholic weddings. If only I could remember it. There was something about a magic lasso and some chocolate coins…and then there were eggs and bacon? I've been a little punchy lately…let's just move on.
Eventually, without much help from the coordinator, the wedding managed to go off without a hitch and the reception was a blast…once the mariachi band left. (No joke.) Here's a quick shot of the happy couple.
And the Groomsmen.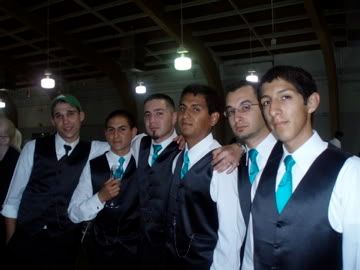 I'm not sure if you can tell, but I'm the dude on the left.
The next day I got to spend a couple hours with my "way-cooler-than-me" parents.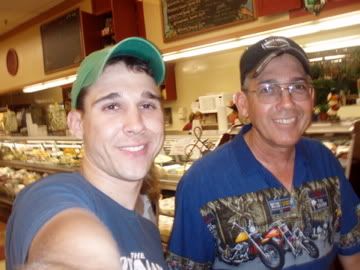 Amtrekker and Papa Amtrekker
They rode up to the wedding on their motorcycles so the morning after the wedding we went on a pretty long ride through the Napa Valley. I took my Mom's bike for the better part of the ride but I got to steal my Dad's new bike for the last half! Awesome.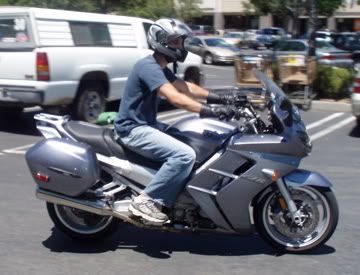 And now here I am ensuring the world that the Amtrekker is back in business! I'd just like to leave you all with this one question: What the hell is a Mello Roo?!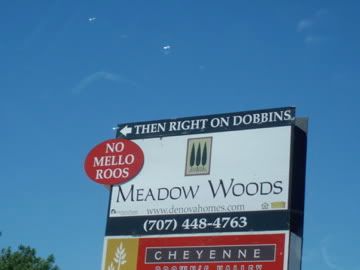 Okay, I'm done.
Brett.
CONGRATULATION JEN AND J-M!!!
Okay, NOW I'm done.
If you liked this post feel free to buy me a magic lasso or some chocolate coins.